Attacked and beaten because of our hair. 1966 revisited.
This week's prompt, "Hair" is extremely well timed. On my 60th birthday, my wife and son successfully orchestrated a surprise party for me. As part of the surprise, they dug up a lot of stuff from my many years in both R&B and Rock bands.
One of the things they dug up was a small handful of surviving lyrics I'd written back in the 60's; among them, these lyrics I'm including as part of my July 15th, Sunday Scribblings post. They also dug up a few old photos.
These were written when I was just 19 years of age, to accompany rock music – they are not terribly polished, but they are earnest. These words came from the bottom of my heart, at the time.
What you need to realize is in the Midwest United States, there were few long-haired bands. We were called freaks, hippies – and taunted, accosted, sometimes even beaten for our hair. Our hair was a very powerful and dangerous statement for us to make – it threatened conservative America.
There were a great many places our band would play were we did not dare walk the streets, unless we did so as a group – including our roadies — a couple of pretty tough dudes. I also played football, so I was reasonably able – but we still adhered to "safety in numbers".
We were expressing our right to be free, and we were expressing our opposition to the war in Viet Nam, and the general intolerance and prejudice that was prevalent in those times. Our hair was not only us speaking out as free individuals, it was also a political and social statement.
Those were very 'strange days'! Our hair made us targets for considerable verbal and physical abuse – but we were committed to our statement of freedom.
Anyway, following here is a 42-year-old photo I attempted to restore digitally. The hair is tame by today's standards, but in the mid 1960's, in Middle America – I was threateningly radical.
Below the photo are the lyrics to "Flowin' Free", which I penned 41 years ago, at age 19. They are not here because they are great verse – they are shallow and naïve. Rather, they are here for their nostalgic interest, and their relevance to the prompt for today.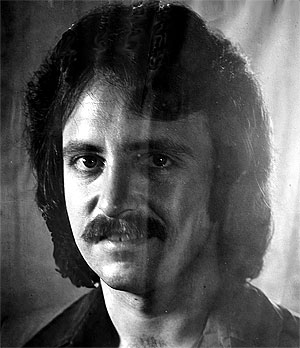 Flowin' Free
(lyrics by: Rob Kistner)
My hair — I grow and grow it
Though the fearful tell me stow it
But instead, I'm proud to show it
I'm young and free – and you should know it
Frightened anger, I rise above it
Aren't you getting tired of it
Despite your taunts, I'll never shove it
Cause my hair, I really love it
______________________
(chorus:)
My hair means freedom
To you it's strange
My hair's my anthem
It sings out change
______________________
You're screamin' at me cut it
Instead I'm gonna strut it
Your hateful mouth, why don't you shut it
Cause my hair – I'll never cut it
______________________
(chorus:)
My hair means freedom
To you it's strange
My hair's my anthem
It sings out change
______________________
My long hair is flowin' free
I'm being all that I can be
But when you look, you don't see me
You see some kind of enemy
It's time you understand
We all must lend a hand
Join with our peaceful, hairy band
And we'll build a better land
______________________
(chorus:)
It's time for freedom
That's not so strange
Let's raise our voices
And sing out change
______________________
So everybody grow your hair
I want to see it everywhere
Time to be brave if you dare
Show your fellow man you care
______________________
(chorus:)
It's time for freedom
That's not so strange
Let's raise our voices
And sing out change
(refrain:)
It's time for freedom
That's not so strange
Let's join our voices
And there'll be change
______________________
© 1966