Tongue-in-cheek look at astrology
When I saw the July 1st prompt for Sunday Scribblings was "what's your sign?" …I thought it was a real hoot – gave me a chuckle.
I have no opinion of astrology beyond my consideration of it as a fun and fascinating parlor game. So, I decided to get a personal astrological reading to support what I would write for my post.
Being a modern man, hip to the communications net that encircles our globe, I turned to the Internet for my reading – specifically to: Astrology.com.
After clicking through several pages, filling in the basic 'stuff' requested on each — I worked my way carefully through the relentless blitzkrieg of commerce, avoiding the free-offer-virtual-land-mines. I finally got my free 'reading' in my eager little hands.
I found it amusing, and sharing it with my wife – she made some sort of smart remark about "if only"… or something like that.
Relevance of this bit of astrological insight not withstanding, it did stimulate this bit of light writing I share with you here – in the form of a tongue-in-cheek poem. It was fun to write — I hope it will be fun to read… 😉
NOTE: This illustration is from a friend of mine. I really like it because I am a cusp-child, and this reflects the two signs my birth date borders.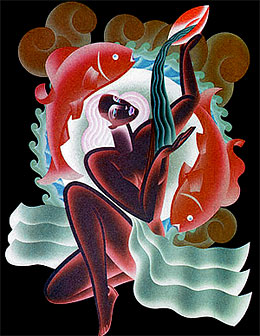 The Dawning
•
I am Aquarius/Pisces
cusp child
lover of freedom
tethers rejected
all constraints broken through
strong of will
resolute
none dictate what I should do
mind of my own
no crowd followed
a path to truth mine to pursue
my life unique
of my construct
its purpose only mine to construe
tradition shunned
avant-garde
the leading edge is not taboo
artist's spirit
writer's voice
soul's palette of multi-hue
just and fair
compassionate
mind open to all that's new
sensitive inventive
philosophical
and a visionary too
I swear this is real
it has been revealed
astrology.com confirmed it true
• • •
rob kistner © 2007