Author's note: My wife Kathy is a nationally recognized contemporary fiber artist. You can see some of her creations below by scrolling down. Included among the skills and crafts she employs in this pursuit, she is a master weaver — and a great inspiration for me. I wrote this for her.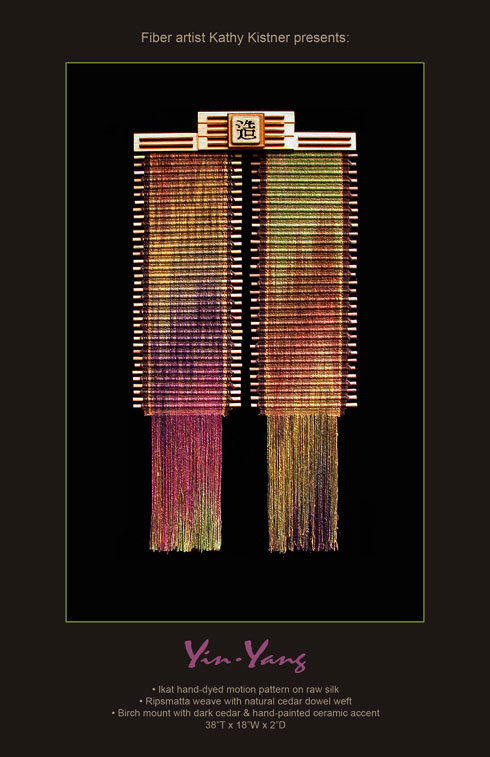 The Weaver
•
today I watched a weaver
marveling at her grace
intrigued by her care
fascinated by this dance
first the treadle
then the shuttle
then the beater
then again
in colors of all nature
in textures of the earth
she coaxed and wove each fiber
with an artist's loving hand
now the treadle
now the shuttle
now the beater
now again
fiber over fiber
her envisioned pattern
expanding ever onward
painting with her loom
and the treadle
and the shuttle
and the beater
and again
the syncopated rhythm
of this weaver's inner vision
her soul's pulse
heart's beat
her metronome of life
go the treadle,
go the shuttle
go the beater
go again
like history unfolding
event upon event
creation slow and steady
progress near unseen
this weaver captures memories
in her tapestry of time
unfurls dreamscapes
in her cloth of wonder
unveils mysteries
in her fabric – there is truth
• • •
rob kistner © 2007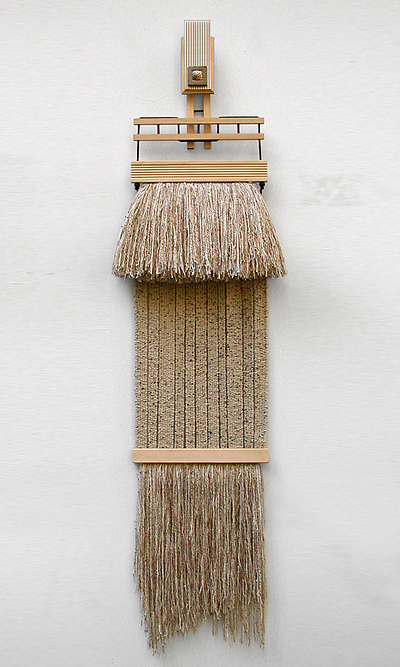 Immediately above is "Fallingwater" another piece from the portfolio of contemporary craft that my wife Kathy and I have created together — she being, by far, the major contributor. At the top, above the poem, is a commissioned piece entitled "Yin Yang".
We work jointly, she creating the fiber art, and I design and build the mounting elements. Kathy does the "magic": spinning, dying, weaving, sculpting, braiding, cording, dowel wrapping, etc.
Her studio is a plethora of spinning wheels, dye pots, warpping boards, floor/upright/lap looms, hoards of hanging skeins, drawers of "found objects", and multiple semi-cluttered assembly tables with pieces in varying stages of complete. Kathy is the fiber wizard. I do the mechanical.
To give you an understanding of what it takes to create a piece from carded fibers through to display ready; Kathy invested nearly a hundred hours, first spinning raw material, then on her Navajo upright loom, weaving and hand-stranding the different fiber elements of "Fallingwater". For mounting of this piece I used maple, red cedar, concrete, aluminum, silk cord, with a nickel chromium art deco medallion. The medallion was a "found object".
"Fallingwater" is a tribute to the Frank Lloyd Wright architectural masterpiece of the same name. Its dimensions are 84″H x 22″W x 10″D.
There are a few more pieces below. Each with an interesting story, each with a great deal of time and careful attention invested in its creation. The names and basic dimensions are included with the photo of each. Kathy's calls her studio Fibrationsâ"¢.
_________________________________________________