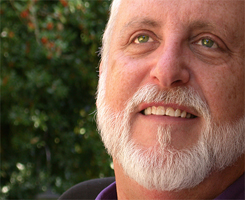 Who am I?
That's me at 63. I am a poet, writer, artist, singer, and contemporary furniture designer. You can see examples of my creations throughout this blog.
Attended 3 different universities in the 1960's, furthering my education at the "university of the road" — cross country on motorcycles, then in traveling R&B and Rock 'n Roll bands for quite a few years.
Possessed of a creative spirit and entrepreneurial temperament, I became one of the country's first home theater architects; having evolved from designing and installing custom residential audio systems in the mid 1970's. Loved doing that, but lost the desire after more than two decades — largely due to the constant struggles with contractors and home-builders.
A product designer as well, it has been my good fortune to have had designs receive the International Innovations Design & Engineering Award. Also was a member of the George Lucas Lucasfilm LTD technologies team. What a great time, having an office on Skywalker Ranch — being surrounded by, and encountering daily, remarkably creative individuals.
My hectic pace as a design & development consultant has abated with age and health. I have now settled into staying close to home here the Pacific Northwest, pursuing my creative avocations.
I am thrilled to spend more available time exploring this magnificent part of the world, while doing my best to be a loving husband and father of two surviving adult children — a daughter, and a son. Sadly I lost a third child, my eldest son in his 18th year.
My wife is a nationally recognized contemporary fiber-artist. Occasionally she will let me design and build a mount for one of her creations. She and I also enjoy playing golf, when possible, at the breathtaking courses here in the Pacific Northwest!
Welcome to my blog!