Two books that changed everything for me — "On The Road" by Jack Kerouac,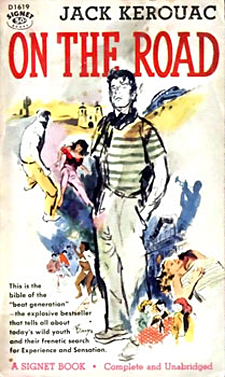 and "The Electric Kool-Aid Acid Test" by Tom Wolfe.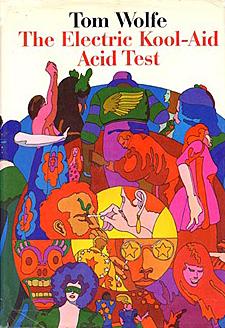 I was a disenchanted-college-student-rock-musician and had just been awakened by the '67 Summer of Love, when I came upon both of these books in the Spring of 1968 in a bookstore in Clifton, Ohio, just down from the Ludlow Garage, where my band, Stone Fox, had just opened for the Allman Brothers and Santana.
These books fueled my frustration with "the system", sparked my wanderlust, and eventually found me and my three best friends, astride internal combustion iron horses, young men heading west — and thus began the rest of my life.
What these books represented was not a map for the rest of my life, I'm well beyond that angst. Rather, they're important to me because they were the catalyst that first ignited my genuine independent thought, and empowered me to act on that thinking.
Following here is a poem I wrote which reflects, quite well, where my head was during that period. You can also click on the highlighted passage young men heading west in the previous paragraph to read a poem I wrote about the motorcycle journey.
Bohemian Nightfall

•

when night fell on bohemia
the streets were set ablaze
in black light
in strobe light

it was tie-dyed psychedelia
when night fell on bohemia

jack and neal were on the road
ridin' with the fire-whores
of angst and indignation
like combustin' carnal fireballs
when night fell on bohemia

allen was howlin'
pal'n with corso
and long'n for peter

hunter, groin deep
in the brain-drug flesh festival
…hunter was fearful
and loathing it all
when night fell on bohemia

bill, stark naked
was lunchin' with the devil
jelly-rollin' in a hell fire
when night fell on bohemia

gary headed for cold mountain
to watch it all from sourdough
electric bob went subterranean

me – stung by disenchantment
the swollen outlaw bastard
coming fast
hard as holy hell
cresting and crashing in
just as night fell on Bohemia

I was on my way
howling mad
and mind-expanded
in a rolling demon's fire,
lighting the night
dancing with beelzebub
raving and blazing
hormone'd-hungry
lusting and longing to gorge
every forbidden morsel and crumb –

the smorgasborgadelic mindfeast

when night fell on bohemia
ken and tim
gathered up the faithful
on the magic bus
and stole off with the future

like pranksters

ever further

• • •
rob kistner © 2008
…this post was inspired by sunday scribblings…